After 3 full years of development, and limited success in the NWR SCCA, campaigning my 1989 Nissan 240sx in the Street Mod class, I'm changing up my philosophy a little.
Originally the game plan was a 4-5 year process, of FULLY developing the chassis, suspension, and engine on the smaller 275/35/15 Hoosier A6 tires, and if the car was not competitive, I would just simply add ballast, and switch to a larger wheel and tire package. The added ballast would of been positioned to balance out the chassis.
I have decided to move on from my smaller 275's, and develop the chassis around a 315mm Hoosier A6, with inexpensive, and fairly light weight 18x12" wheels. It's unfortunate that I will never be able to realize the full potential of the 275mm tire package, as I know there was still lots of improvement left.
For a wealth of SM and S chassis information, click here a quick link to my old build thread,
http://www.nissanroadracing.com/showthread.php?t=2703
A couple pics of my old setup...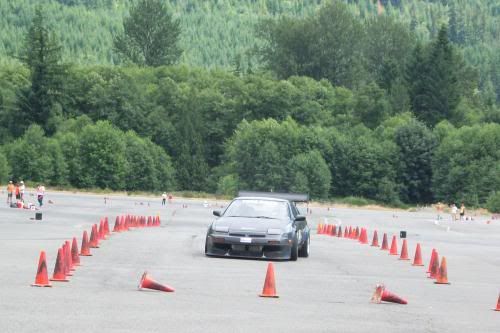 I have experimented quite a bit over the last 3 years, many times trying to run an "out of the box" setup, and many times ending up right back into the same box that everyone else runs in. However those experiments have taught me a lot.
If I could go back in time, there are a couple things I would do differently...
Number one, I would not of tried to develop the S13 subframe. The high levels of anti-squat which is not something that is proven to work with multilink suspensions. High levels of anti-squat is not optimal for putting the power down with a multi link suspension. When acceleratingwith the S13 subframe much of the weight is transferred to tire through the suspension links, instead of though the coil spring/damper assembly.
Number two, I would not of experimented with my low SAI setup (12-14 deg's), as all that did was lower my roll center, and remove all camber gain, and in fact add positive camber gain during the second inch of suspension travel. In my ignorance, I neglected the fact that the Strut tube defines the slider axis, which defines the roll center & the camber curb of the mc strut suspension.
Number three, moving the strut inward with longer "strut ears", in order to fit wider wheels and tires, was also a huge mistake, as this changes the slider axis of the strut in a negative way.
Number four, I would like to go back in time and focus in on more important aspects of the car, that actually have a large effect on handling. That's easier said the done though, as when I first got into this build, and admittedly even now, I'm unsure on the most important and most efficient bang for the buck mods.
I think the most important thing (besides tires), is actually a good "high end" set of dampers. Setting up a car around sub par damper can have you spending thousands of dollars trying to overcome certain issues that could possibly of been resolved by simply having a proper set of dampers right off the bat.
Besides all of the obvious mods, like installing adjustable arms, spherical bearings in the rear knuckles, and installing lightweight parts, I would recommend purchasing a software program to analyze and understand your suspension, measure and correct the front roll center and camber curve, measure and correct the rear roll center and camber curve, install good high end dampers, fit the largest wheel and tires you possibly can, If auto crossing, choose an engine that has the widest power band, and the most area under the curve, SR20VET, Ka24de-t, LS1...
Ok, enough with the rambling about the past, and what I think I've learned...
I have not posted anything in a long time, so it's probably going to take a couple posts to get caught back up.
Unlike most "must Read" race car books this book is current and up to date, as it was recently published. IMO, it contains a wealth of knowledge and makes it easy to get a look into the world of dampers. i'm hooked! Whether you have an interest in dampers or have little to no knowledge of dampers, this book is a must read!
http://www.amazon.com/VEHICLE-DYNAMI.../dp/1477247378
Performance Trends suspension analyzer was another investment that I recently made, that I would recommend. It has taught me quite a bit in a short amount of time. I wish I would of invested into it at the beginning of this build.
http://performancetrends.com/what_our_users_say.htm
I wrote back to them, thanking them for working with me after arguing with them for a week, but once I realized I was wrong, it's the least I could do... They posted a pic of my car, and quoted me, in their "what our customers say" section. I'm just happy to get a pic of my car on their website!
http://performancetrends.com/what_our_users_say.htm
Sneak peak of the next post...