This is my 1992 Nissan 240SX Coupe Base Model. On the old internally stock motor (with the GT3071R), I dyno'd the car on a Mustang Dyno, and it put out 342.5 HP and 334.6 TQ at the rear wheels. Full power was between 4k and 6200 RPM. The lack of more power is due to the horrible tune (I do not recommend Emance whatsoever!), and stock cams. I was under 11.0 AFR give or take a few tenths under full boost, and this is at 20psig. I like to do all kinds of driving on the car, which include but not exclusive to: Auto-X, Drag Racing, Drifting, and general Spirited Driving. At the Drag Strip last year's season, I cut an 11.95 @ 114.5 MPH with a 1.61 60 ft.
Over the past year I have been working on a built SR long block to install in the car, and thought I was all done and ready for a tune. Well, it turns out that the ringlands cracked/broke so I have to redo the bottom end... yay. Not entirely sure of the cause just yet, but I'm sure I'll know more soon when I get the motor out.
Below is the "mod list", but obviously some will change with a new bottom end (mainly the pistons of course):
Under The Hood:
1993 S13 v2 Redtop SR20DET
Bottom End Balanced, decked, honed, and bored out to 86.5mm.
86.5mm Mahle 8.5:1 Pistons
Scat H-Beam Connecting Rods
ARP Rod Bolts
ARP Main Studs
ARP Head Studs
ACL Race Main Bearings
ACL Race Rod Bearings
Brand New SR20DE Crank
Apexi Metal Head Gasket
Supertech Dual Valve Springs
Supertech Titanium Retainers
Tomei 260 Duration Camshafts (12mm of lift)
Tomei Solid Lifter Conversion
Custom (made by yours truly) Rocker Arm Shims
Megan Aluminum Accessory Pulleys
ATI Crank Super Damper
Full-Race Twin Scroll Manifold
Full-Race/Garret GT3071R Twin Scroll
Full-Race/Tial 44mm External Wastegate
Full-Race 3" Turbo Elbow
Modified Megan 3" Down Pipe
Modified Apexi GT-Spec Exhaust (3"/3.75")
HKS Intake Filter
300ZX TT N62 MAF
Greddy V-Spec FMIC
Tial Q BOV
Tomei Adjustable FPR
Tomei 740cc Injectors
Splitfire Coil Packs
Earls Oil Filter Relocation Kit
Earls SS Braided Turbo Lines
Top Fuel Oil Catch Can
NGK Iridium Plugs
Westco Miata Battery
Greddy Oil Pan
Nismo Radiator Cap
Mishimoto Radiator
Circuit Sports Radiator Hoses
Altima Electric Fans
Megan Brake Master Cylinder Heat Shield
Power Transfer:
Kaaz 1.5 Way Clutch Type LSD
ACT 6 Pad Sprung Racing Clutch
ACT Heavy Duty Pressure Plate
ACT Streetlight XACT Chromoly Flywheel
Nismo Engine and Transmission Mounts
B&M Short Shifter
Shaftmasters 1 Piece Aluminum Drive Shaft
Handling and Grip:
Complete 5 lug conversion
Megan Street Coilovers
Tanabe Chromoly Rear Sway Bar
300ZX Aluminum Rear Uprights
SPL Tension Rods
Project Nissan Adjustable RUCA's
Megan Adjustable Toe Rods
R32 Skyline GTS-T Brake Conversion
SPL SS brake and clutch lines
ES Sway Bar Bushings Front and Rear
ES Rear Subframe Bushings
5 Zigen Typhoons 17x8 +27 Offset Up Front / 17x9 +35 Offset In Rear
Kuhmo 235/45/17 Tires Up Front / Maxxis MA-V1 275/40/17's in Rear
(For Drag Racing, I have a pair of OE Mustang Steelies with 26x8.5x15 Mickey Thompson ET Drag Slicks)
Inside the Car:
S14 OEM Front Seats
HKS Turbo Timer
HKS Fan Controller
Hallman MBC
Real S13 Silvia Manual Seatbelt Conversion
Nismo Leather Shift Knob
Emance Tuned ECU
Autometer ES Wideband Air/Fuel Gauge
Autometer ES Electronic Boost Gauge
Momo Steering Wheel Hub
Momo Mod 08 Steering Wheel
Styling:
Clear Turn Signals
Here are a couple photos: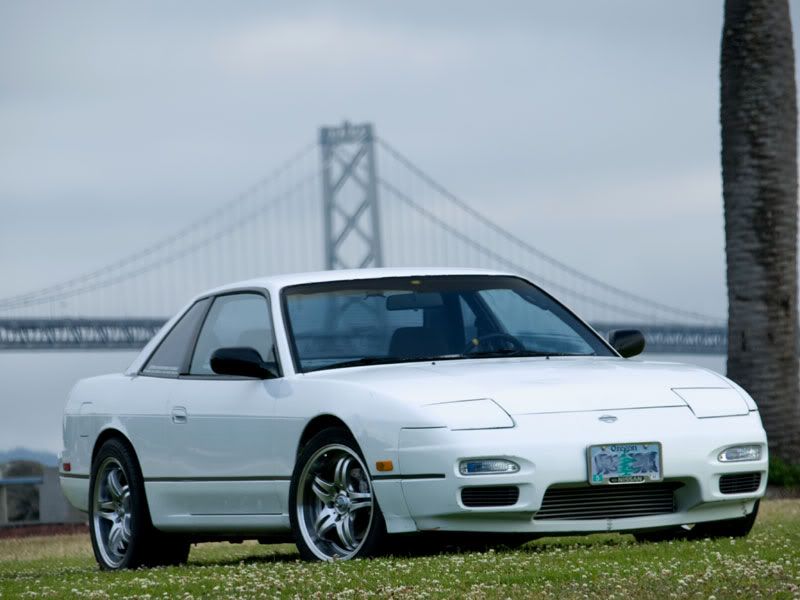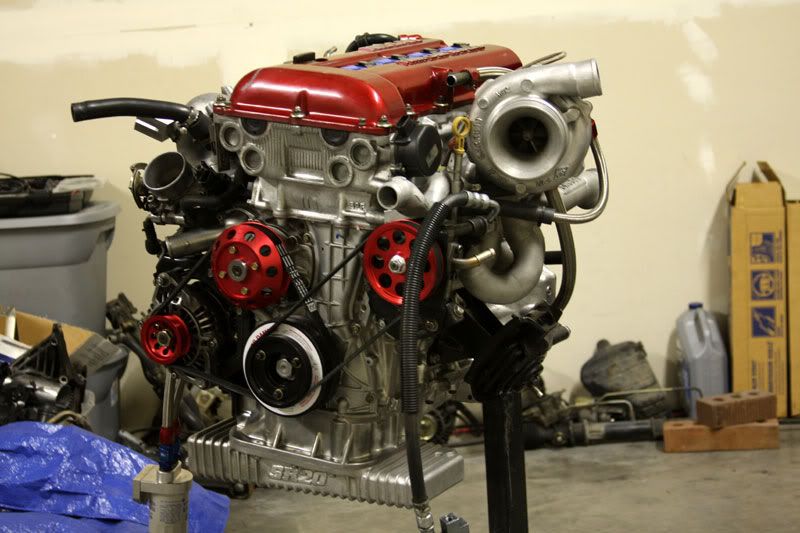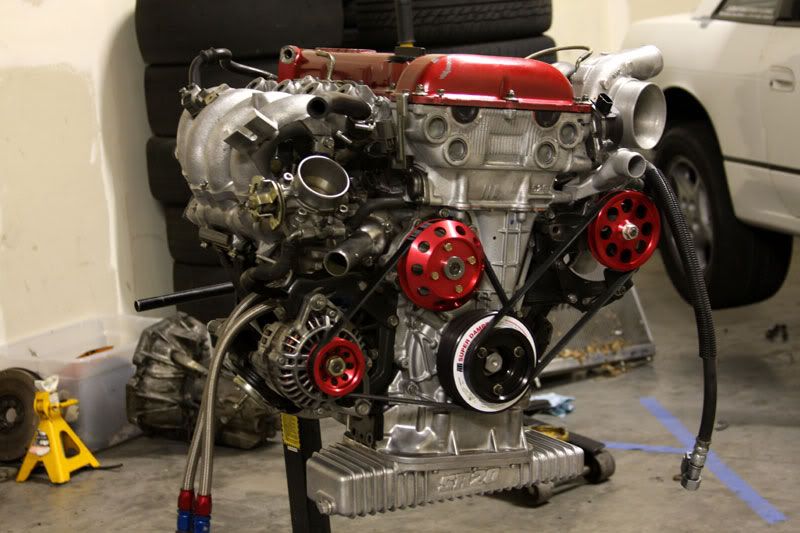 Here is a video:
Drag Racing My Buddy (12.3 Pass):
http://www.vimeo.com/3355139
I plan on replacing a lot of the suspension parts with SPL parts, and get rid of the cheap stuff. Also going to get more serious with the coilover setup as well eventually. For now, I need to get the motor where it is supposed to be, get the chassis stiffened up and straightened followed by a good set of tires, lol. I'm nowhere near finished with this car, but it's been coming along over the past 7 years, lol.