Hey guys,
New to this forum, figured I would share my car. By no means a track car, but it is a happy medium between daily driver and weekend autocrosser. Here she is: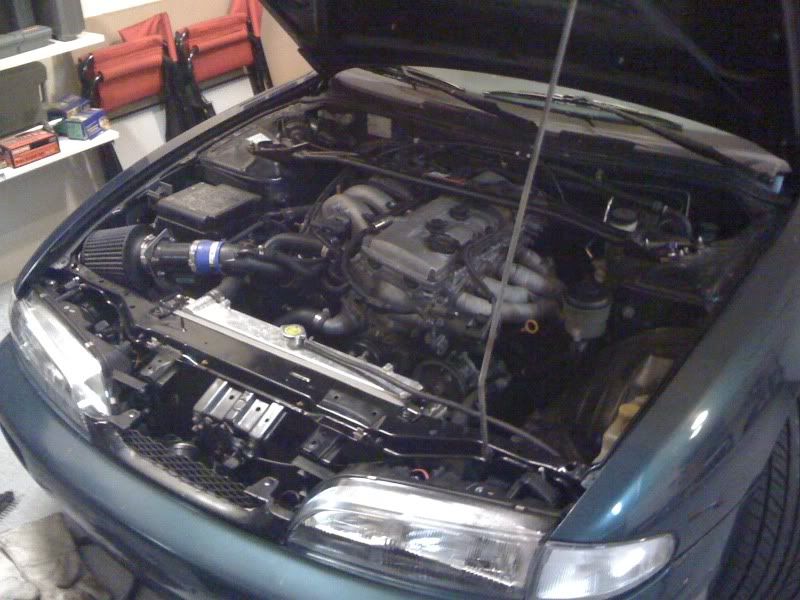 Current Car Specs:
-Exterior
--20% Tint
--JDM Wind Deflectors
--SE Front Lip
--EUDM Glass Headlights
--Spoiler Removal
-Wheels / Tires / Suspension
--D2 Coilovers (9kg/7kg Springs)
--Tein Inner/Outer Tie Rods
--Kazama Tension Rods
--Ebay RUCA / Toe Rods / Traction Rods
--DC Sports Front Strut Tower Brace
--Cusco Rear Strut Tower Brace
--Stern ST1 Wheels [18x8.5 +20 (F) & 18x9.5 +20 (R)]
--Falken Ziex ZE512 235/40/R18 (F) & 265/35/R18 (R)
-Interior
--AEM UEGO Wideband
--Dakota Digital Water Temp Gauge
--Custom GPS In-Dash Mount (Made By Me)
--NISMO Black Dildo Knob
--ISIS V2 Short Shifter
-Engine/Drivetrain
--XTD Lightweight Flywheel
--Centerforce Dual Friction Clutch
--1 Piece Aluminum Driveshaft
--J30 VLSD
--Custom Short Ram Intake
--Mishimoto Radiator
--Tubular Header
--DEI Header Wrap
--Tubular Downpipe 2.5"
--2.5" Forza Tuning Exhaust
--Thermal IM Gasket
--Mr. Copper Exhaust Manifold Gasket
--Window Weld Motor Mounts
-Brakes
--Q45 Front Calipers / Rotors
--Z32 Rear E-brake Assembly / Calipers
--Rotora Z32 Rear Rotors
--R33 E-brake Cables
-Future Plans:
--M62 Eaton Supercharger Setup
--Oil Cooler Setup (Got the Skullworks Oil Block)
--SPL Rear Arms & Subframe Bushings/Spacers
--Whiteline 27mm & 22mm Sway Bars
--Energy Suspension Kit
--Superlite Front Brakes (Purchased Brackets From 2Fass240us)
--Enkei RPF1's V2
Thats all I can think of for now! enjoy!