Hi, everyone. My name is Steve. On most other forums, I go by irritatedmax, so if you recognize anything there you have it. I just thought it would be nice to go by my real name.
As the title indicates, I have big plans for my S14, dubbed Hulk Smash, this year. It has been a constant work in progress over the past three years; spiraling into a full car build before I knew what happened. Anyway, a full write-up of the build-up can be seen on our blog -
Brickhouse Products
(click for hyperlink). Click on the Hulk Smash category on the right, and it will pull all the posts on the build.
It currently looks like this...kind of...actually, this is the just the last pic I have of the car before storing it away for the winter. Haha.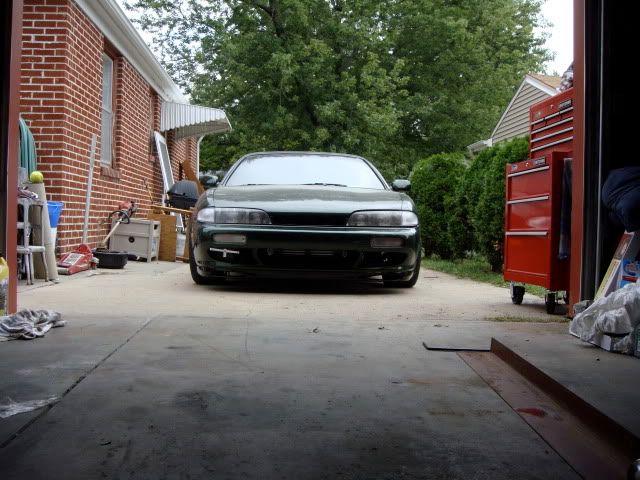 The engine bay...again, before I tore it apart about a month ago.
And, a quick rundown of the main parts.
Engine:
Built block - AMS rebuild kit
Garrett T3/T4 57 trim .63 AR turbine housing
Brickhouse mid-mount intercooler
Nistune
Suspension:
Stance OG Coilovers
Peak Performance RUCAs
Peak Performance Tension Rods (need to install)
Tein Inner/Outer Tie Rods
NRR DIY Toe/Traction Rods (hopefully can get in on the group buy)
Brakes:
Z32 26mm Brakes Front
Stock Rear Calipers
1" Z32 BMC
Hawk Pads
Motul 5.1 Fluid
Drivetrain:
Competition Clutch Stage 4 Sprung Clutch
Welded Diff
Peak Performance Motor/Trans Mounts
There is A LOT more, but that gives you a nice starting point/general idea of the build. I started building it with drifting in mind (some part choices may reflect that); however, I recently realized I need to look into more AutoX and HDPE events to maximize my track time opportunities (drifting is rare in these parts) AND, more importantly, increase my driving abilities.
It was not built for any specific class nor will it be. I will run with whatever I am classed with - not trying to sound like a tough guy. It was built for fun/drifting and is beyond the point of being toned down to "more beginner" class. I am not a pro driver nor do I expect to be. It is just my car, and I want to have some fun and learn with it.
My current (VERY simplified) project/upgrade list goes something like this:
-Finish oil cooler setup
-Buy wheels and tires for HDPE/AutoX (RPF1 18x10.5+15 or Work XD9 18x10+18 with ~275/35 NT05 all around)
-Reinstall/Bleed Brakes
-Reassemble engine bay
-Tune/Alignment
-DRIVE!!!!!!!!
That's about it for now. I'll update this as my "build thread". Thoughts, comments, suggestions, recommendations, and opinions are more than welcome.