Well I have finally decided that it is time for a build thread. Right now I am in the process of a FULL chasis and suspension re-build, but we'll get to that in a bit. I figure we should start with where the car was before all this non-sense.
Vehicle:
-1989 nissan 240sx fastback
-base model
-power nothing
Engine:
-KA24DE out of my old '92 coupe (190k mi)
-k&n typhoon intake
-custom intake duct
-espelir gt500 catback exhaust
-stainless steel 4-2-1 header
-catco 3" cat
-urethane exhaust hangers
-"drift freaq" solid urethane mounts
-blitz radiator cap
-altima electric fans with temp. and manual switches
Drivetrain:
-exedy stage 1 clutch
-spec 11lb aluminum flywheel
-peak performance race tranny mount
-driveshaft shop 1-piece steel shaft
-SPL solid diff bushings
-s-14 pumpkin, s-13 VLSD cover, vlsd, 4.36 gears
-infiniti j-30 axles
Suspension:
-energy suspension bushings with zerk fittings
-SPL version2 tension rods, modified to clear endlink brackets, powdercoated black
-no-name RUCA, trac, and toe arms with upgraded bearings
-kazama subframe bushing collars
-touge factory solid steering shaft bushing
-yanack aluminum steering rack bushings
-hicas steering rack
-megan inner tie rods
-stance gr+ pro coils with 9k/6k springs and tender springs in the rear
-stock 25mm front sway with added adjustment holes
-custom spherical front swaybar endlinks
-no rear sway bar
Brakes/Hubs:
-32mm x 296mm GTR front calipers
-OE GTR front rotors, crossdrilled
-z-32 rear calipers
-OE z-32 rear rotors
-porterfield r4-s pads fr/r
-technafit z-32 conversion lines
-nabco 1" master cyl
-z-32 brake booster
-updated 3" front brake ducts
-s-14 rear 5-lug hubs
-peak performance street front 5-lug hubs
-SPL hub centric rings
-ichiba 50mm long wheel studs
Wheels/Tires:
-17x9 +17 mb competition
-245/45/17 bridgestone RE01r
-235/40/17 toyo RA1
Chasis/Electrical:
-gutted chasis(heater re-installed)
-stitch welded front end
-seam welded front crossmember
-clearenced front fenderwells
-AMS performance weld-in power brace
-carbing steel front strut bar
-ultra racing fender braces
-generic c-pillar bar (painted gunmetal metallic)
-cusco 3-point rear strut bar
-tc sportline subframe brace
-battery moved to pass rear seat
-22lb hawker energy (odyssey) dry cell battery
-c-west voltage stabilizer
-charcoal canister moved to passenger's side
-omp front tow hook
Interior:
-350mm personal driver series steering wheel
-NRG short hub
-NRG quick release
-nismo "dildo" shift knob
-sparco speed driver's seat
-teamtech 5-point harnesses (dr. side only)
-custom aluminum oversized brake/clutch pedals
-custom carbon fiber radio/din delete panel
Exterior:
-chuki front end
-garage defend front lip spoiler
-gutted stock hood
-hood pins
-china h4 conversion housings
-hella h4 bulbs
-JDM 1/2 amber 1/2 clear bumper lights
-ghetto rolled/pulled front fenders
-rolled/pulled rear quarters
Fluids/tune-up/etc...:
-neo 10w40 synthetic motor oil
-wix oil filter
-neo 75w90 rhd synthetic gear oil (trans)
-neo 75w90 rhd synthetic gear oil (diff)
-25% coolant with NEO motorcycle coolant additive
-brembo lcf 600 + brake fluid
-redline powersteering fluid
-bosch cap & rotor
-NGK plug wires
-NGK iridium plugs
-moog ball joints fr/r
-moog outer tie rod ends
Here's a couple recent pics...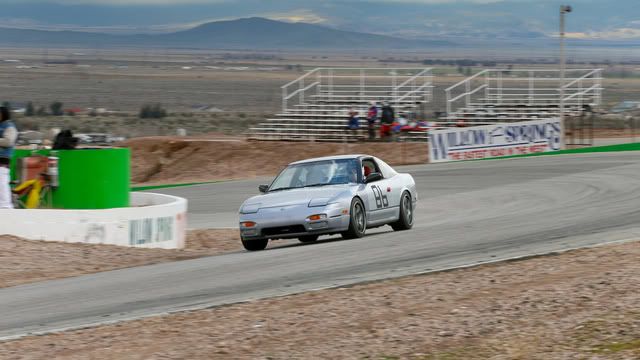 Believe it or not I supposedly ran a faster time then the ford GT in the backround.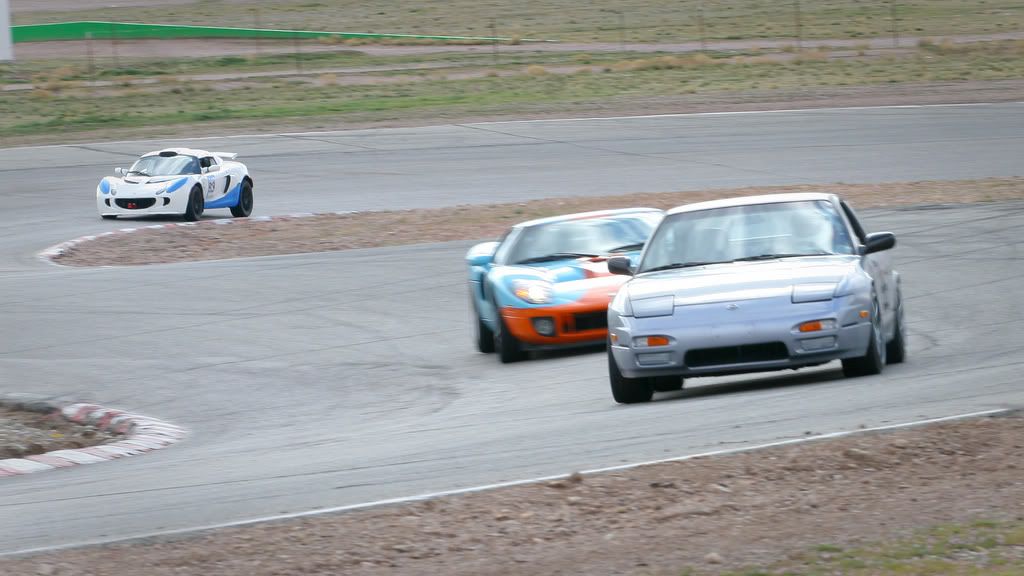 ...and one of my old favorites, I kinda miss my silvia front.
PURPOSE:
The purpose of this build is to be competitive in the redline time attack street class. I want to run under 2:00 at buttonwillow (13CW). Since I ran a 2:09 my last (and first) time there I have 10 seconds to go....