I have messed around with fiberglass a bit in the past and I just finished my first carbon fiber wing project, but I have never had the chance to try the plug and mold making processes until just recently. So I thought I would share.
My 240 has aluminum side skirts and I am going to run a side exit exhaust system exiting from the drivers side front fender. I could have cut a round hole in the rocker / side skirt and stuck the exhaust pipe out of it and been done with it but that's not my style. I chose to do something a little more custom.
To start my plug (the original part that the mold is made from) I made an aluminum skin or cover to go over the side skirt. I made it a few inches longer in each direction to let the carbon fiber part run out and give more slack for trimming the final part.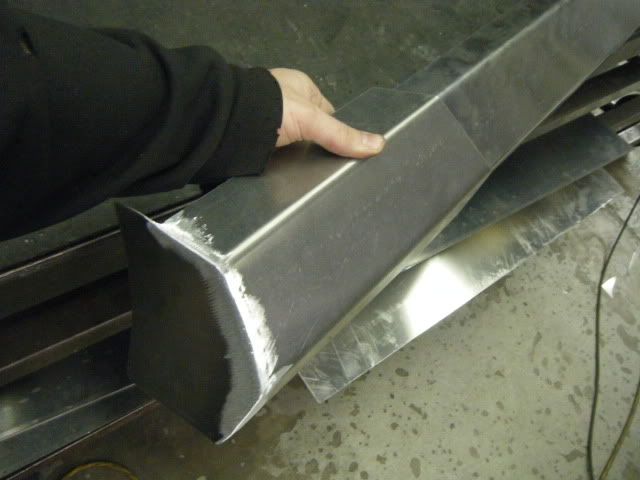 Then I bent a piece of 1/4" round bar into the shape of the outlet. Using a piece of sheet metal and a few rivets and spot welds, I positioned and attached the outlet ring to the aluminum skin.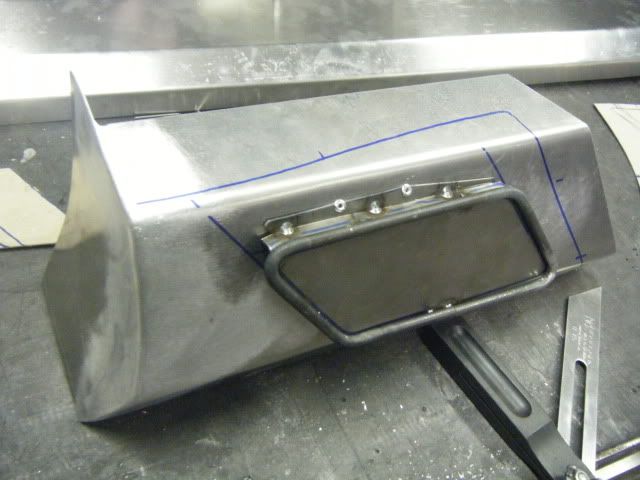 Bondo was then used to sculpt and contour nice smooth transitions into the part.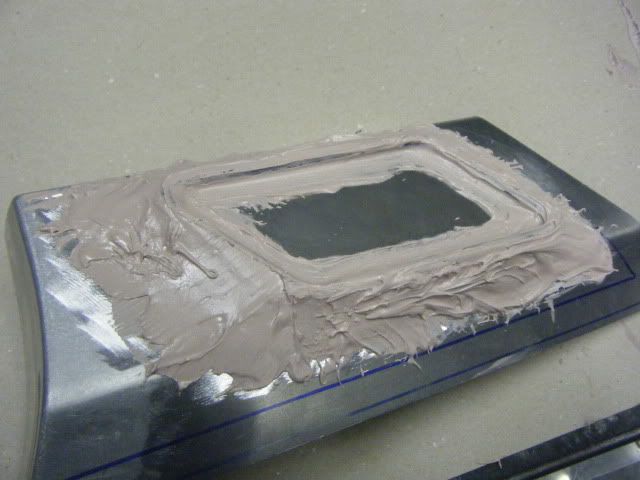 After using a cheese grater and some sanding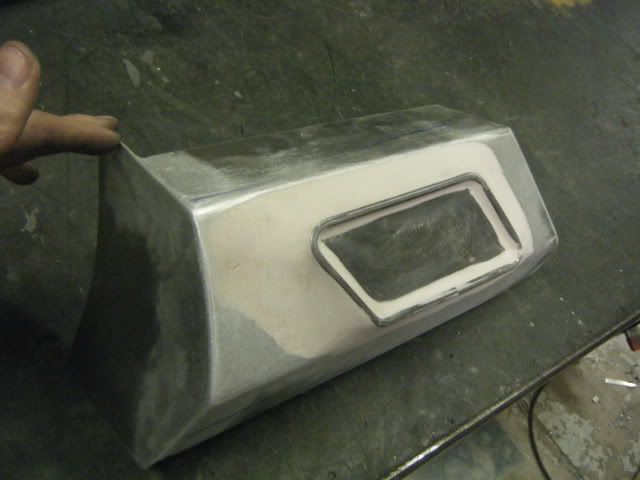 A few coats of black primer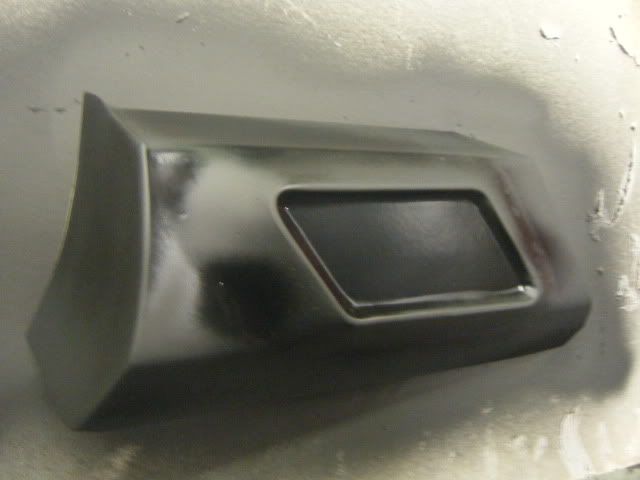 Next I sanded it smooth with 600 grit and waxed it 3-5 times with carnuba wax. Then a thin layer of PVA (release agent, a liquid that when dry forms a super thin water soluble plastic like film) was sprayed onto the part.
After that dried it was time to make the mold. 5 to 6 layers of fiberglass matte and cloth were laid over the part.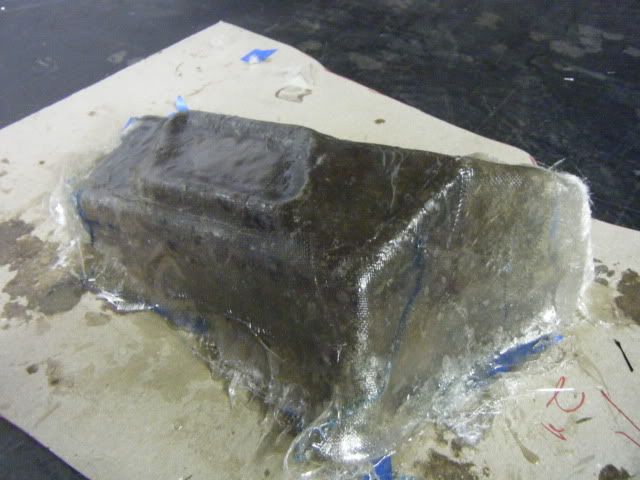 After it cured over night I used a cutoff wheel to trim and clean up the rough edges a bit.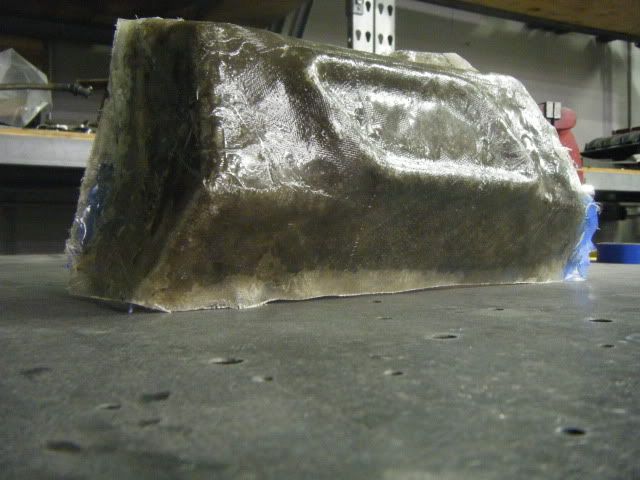 Here is the part still in the mold. The blue tape boarder was suggested to help get the edges of your part to release from the mold and it worked great.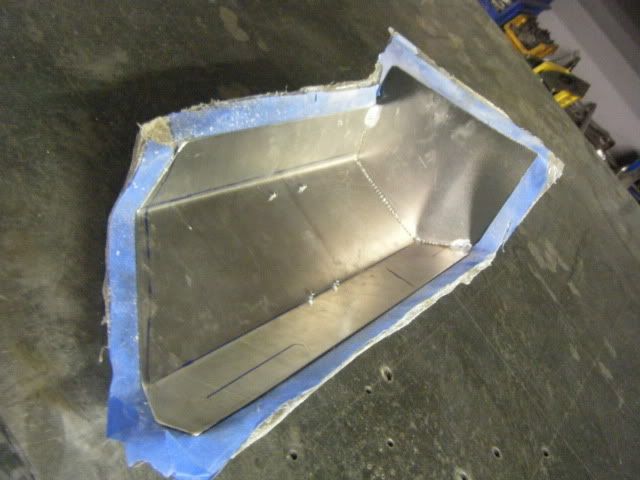 Gently cracking lose and pulling the part from the mold. The saran wrap looking film is the PVA.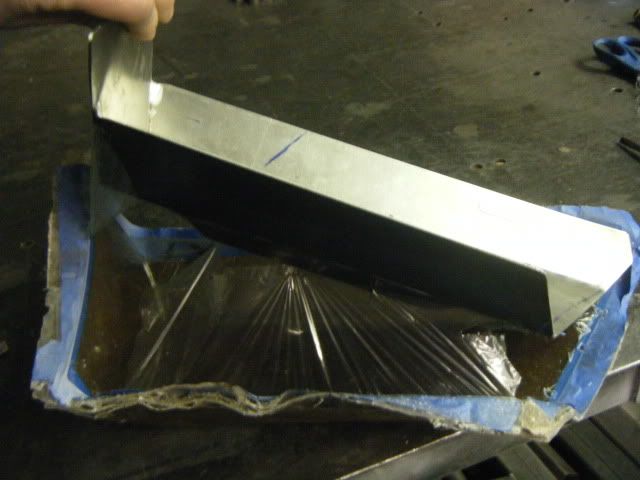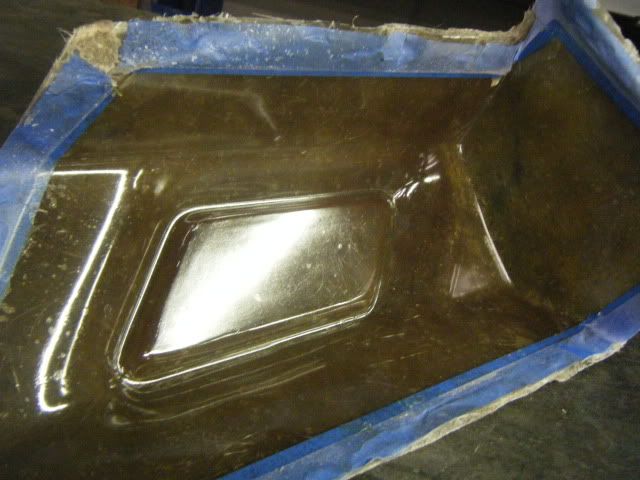 It came out really easy and turned out great. Now all the prep procedures we did on the plug are done on the mold now: sand smooth, wax, and apply PVA. Once the mold is prepped and ready we are go for carbon fiber. I used Aeropoxy resin and a 2x2 carbon cloth all purchased at Aircraft Spruce. The carbon cloth was cut into shape and laid out on a plastic sheet. Resin was poured over it and then it was covered with another plastic sheet and a squeegee was used to fully impregnate the resin into the cloth and also remove any excess resin.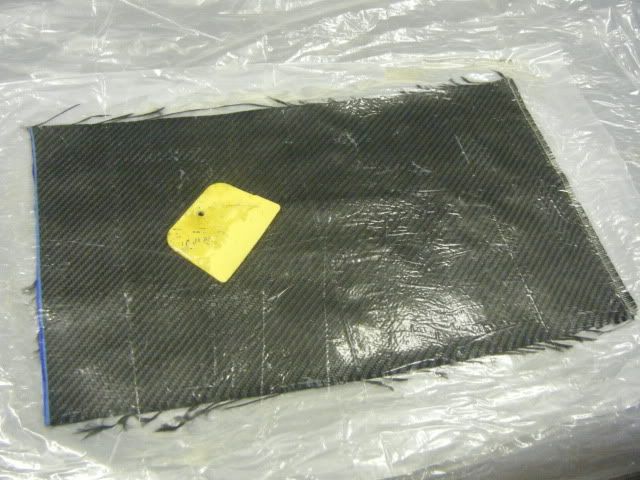 Since this project is only a cover, backed by the aluminum sideskirt, it has no structural requirements and i could make it suicidal light. So I laid up two layers of the carbon cloth into the mold. The aeropoxy resin and the catalyst I used gave me about an hour of working time so it was cool to be able to take my time handling it and relax getting it into position. Also wanted to mention that whether it be making a mold or laying up a finished part, that you should always brush in a layer of resin first and let it gel up before laying in any cloth, matte, or chop so that it will act as a smooth clear coat layer and not get imprint from the carbon or fiberglass.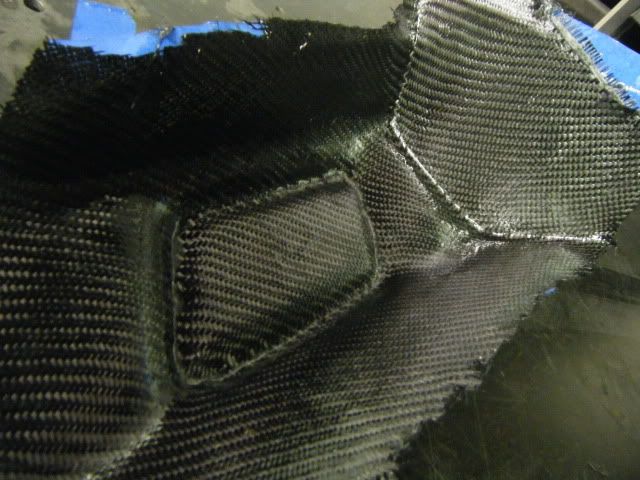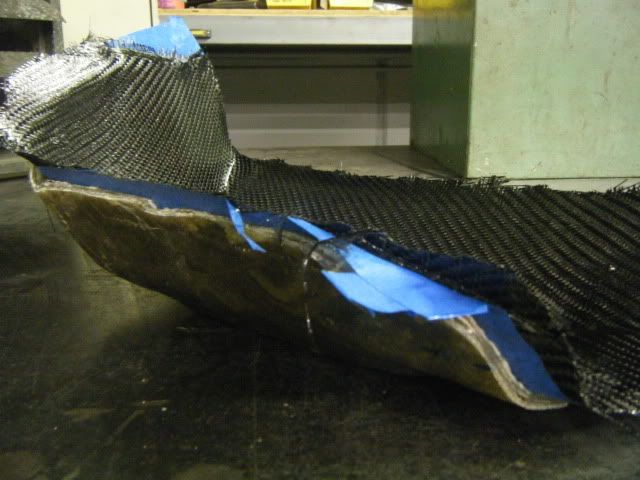 The next morning I cracked the carbon part free from the mold and got this
Next I carefully trimmed the edges till it fit over the side skirt and cleko'd it in place.
Carefully cut out the opening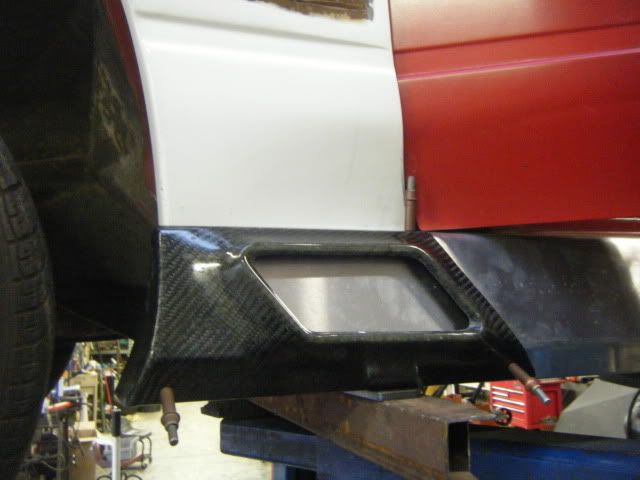 Modified my downpipe with a v-band clamp and built the exhaust system
Put it all back on the car for a test fit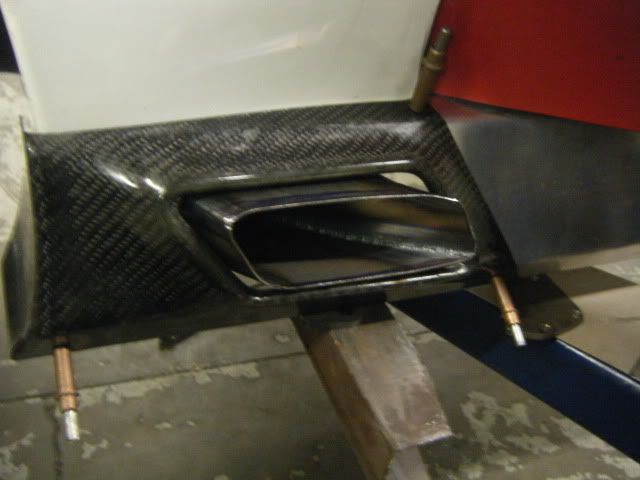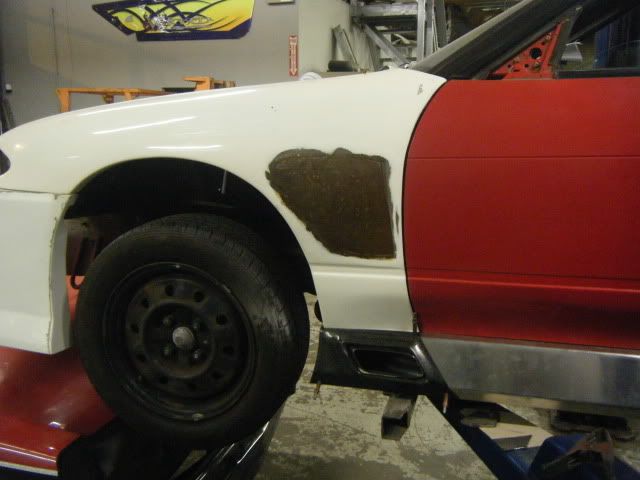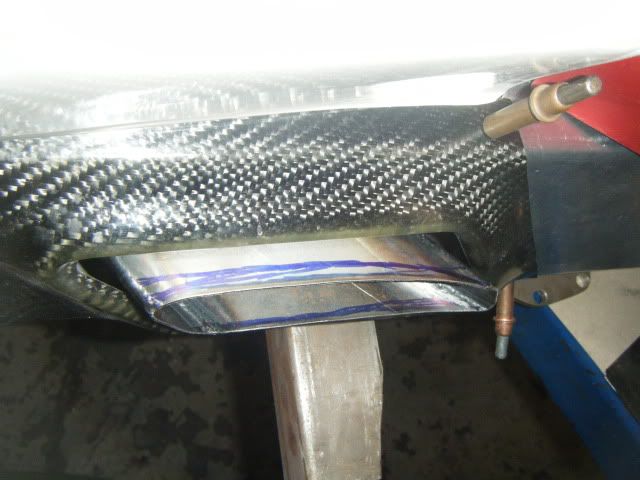 I am going to wet sand and buff the part next to get it a little glossier. For my first mold making experience I am very pleased. I am no professional and this was done strictly for fun. If you want to try this yourself I would highly recommend watching some youtube vids. That is where I learned most of what I know on the subject. Thanks.