I finally picked up my hood from Mike over at Kognition Design over in El Cajon, CA
. Upon initial inspection I was very pleased. Build quality looked excellent, and i could see that Mike put a lot of detail into what he was building. Mike stated the hood weighed in at ~14lbs. Compared to the stock hood, I could pick up this one with one hand, and it definitely put a big smile to my face. The underbody skeleton of the hood itself looked to be very good quality, and again looked to be developed using a lot of time and detail. It was pleasing to see to say the least. Upon feel, the hood feels feather light, and using a single hand to raise it feels almost weightless. Mike later showed me the mold to develop the top and bottom skeleton, and I was amazed at the amount of reinforcement the OEM hood had... I could understand WHY the OEM hood was so damn heavy in the first place. Again, mold looked great and it reflected in the product.
When it came time to install I was anticipating the hood to be off a bit. But to my surprise the thing just bolted right up and aligned similar to my OEM hood (keep in mind my fenders have problems of their own aligning to the car
). I felt that this is where my purchase with Mike at Kognition paid off. After aligning the hood we installed Aerocatch hood pins without much effort. The whole install took about 3-4 hours with occasional tours around his facility.
Now the hood does not have a OEM hood latch. It could be good, or bad for some. But in my opinion the OEM hood latch implemented and sold by other companies has a terrible fit, or could break (according to online reviews). I highly recommend using hood pins whenever upgrading to a composite type of hood. So in my case it was not an issue. The OEM hood latch was removed so it maybe saved an extra 1lbs?
In conclusion I'm glad I waited for the hood (it's been 2-3 years!). You do get what you pay for. As for driving impressions, I'm guessing it's more of a placebo effect, but the car feels lighter on its feet. Regardless, lighter is better!
Mike installing the hood while I zone out.
A not-so-great picture of the underbody. I'll take more pictures of it later. But check out the hood stand. Pretty nice eh?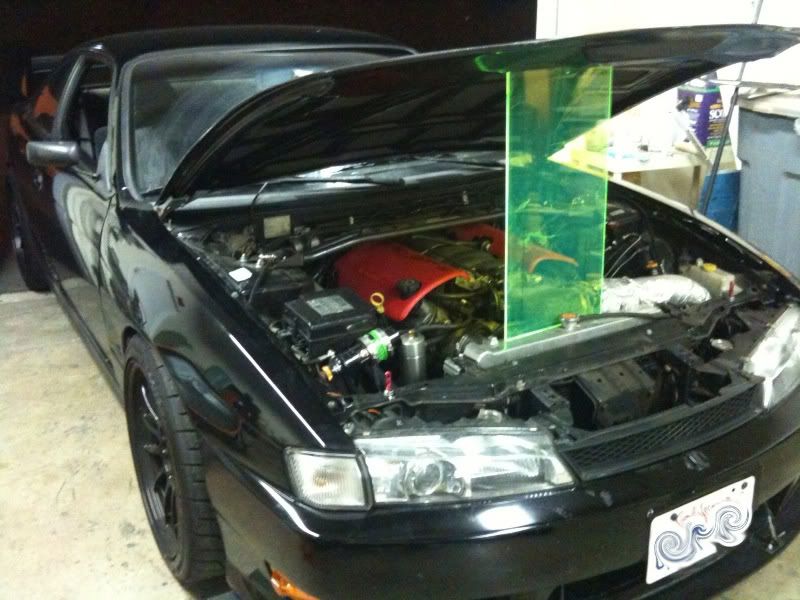 Picture of the hood outside...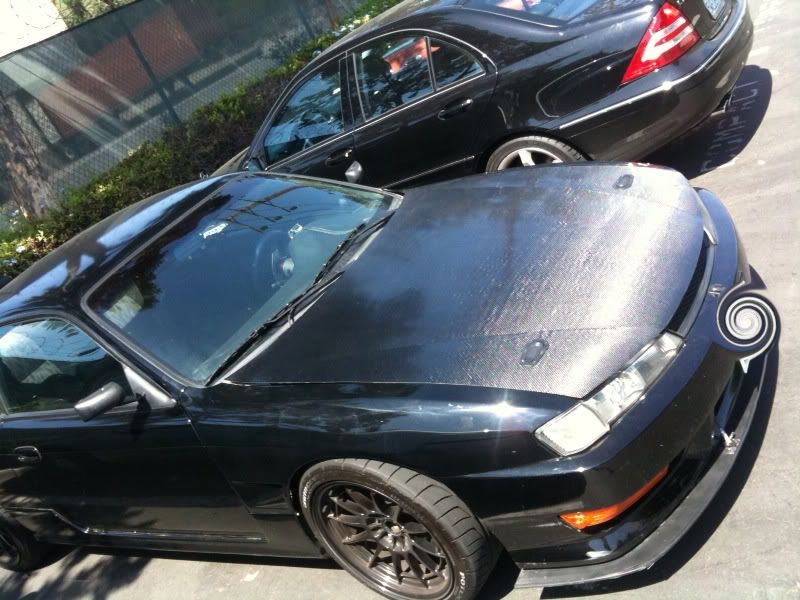 Top view...