Ok guys,
I just came across a deal that was too good to pass up on some Ohlins dampers. I was originally planning to ask for feedback on these before I purchased them to see what everyone thought of them, but this deal came up too fast for me to really do as much research as I would've liked to do(hope it doesn't come back to bite me).
I was basically looking for something that wouldn't be too stiff and would handle pretty good. I am not looking for an all-out competition coilover.
Has anyone here had these on their S13? how did it handle? what were your thought on them? How would they compare to the koni/gc setup(if at all).
Here is some info on the ones that I purchased:
Fronts are 52mm inverted monotube 32 way adjustable. Rears are adjustable and have ride height adjustment. Apex'i springs.
Here is a pic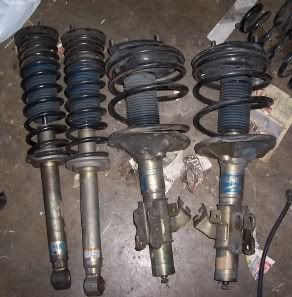 Ivan