I've been starting to plan my build for my 90 240SX ministock car. My home track is a 1/3 mile paved oval. When I run the gear ratio's, tire diameter, and speeds through a calculator, I find that the engine RPM's will be a bit higher than what might be optimal for a mostly stock KA24E.
I've been using this KA24E dyno graph as a reference for the powerband: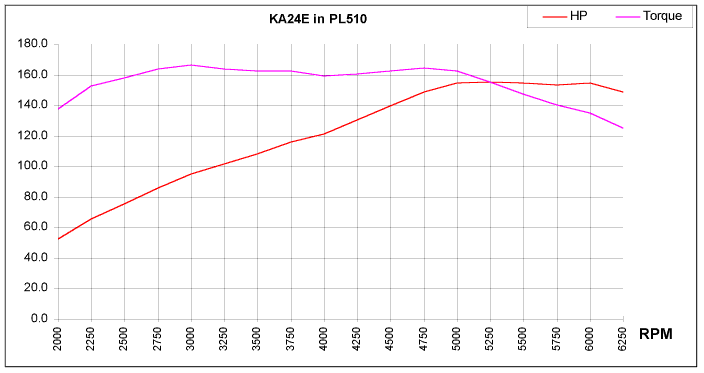 Does this look like a decent representation of a typical KA24E with basic bolt on mods (intake/exhaust)? The site that the graph is from stated that they increased the output numbers by 20% to get an assumed crank HP/TQ numbers.
I'm not allowed to perform any engine mods aside from the header, exhaust, and intake (up to, but not including the TB).
What would you reccomend to move the torque band a bit higher? Power under 4700RPM is of no concern since the car will typically only run between 105-125kph on 23" tall tires in third gear.
Here are my current plans:
-Short intake with the filter placed in the stock battery location. The pop-up headlights are removed.
-Custom 4-1 exhaust manifold with 1-5/8" primaries.
-2.5" side exhaust exhaust with straight through muffler in the stock cat location. (the rules limit us to a max exhaust diameter of 2.5")
That is about all I am allowed to do. No port matching, no adjustable cam timing gear.
Aside from getting the engine to breath better and building a custom header with large diameter primaries and proper length runners for 5000-6000rpm, is there anything else I should consider for moving the power band up?