PLEASE NOTE: Current bracket pricing is $185/set plus shipping.
Group Buy List
9/2 UPDATE: I plan to close the GB on 9/11 unless it looks like we'll have more people coming in. Even so, I want to get the ball rolling so you get them as soon as possible.
davinci - 1 pair - silviav8forums - S13
paintkilz - 1 pair - silviav8forums - S13
TurboGoKart - 1 pair - silviav8forums - S13
indeed - 2 pairs - silviav8forums - S14
Torfeo - 1 pair - NissanRoadRacing - S13
blueshark123 - 1 pair - silviav8forums - S-chassis?
dgz32 - 1 pair - Z31performance - Z31
DavidA - 1 pair - Z31performance - Z31
springerc69 - 1 pair - Z31performance - Z31
Chad - 1 pair - Z31performance - Z31
Overview
These brackets will allow you to use a 350Z Track rotors with Wilwood Superlite 4- or 6-piston calipers on the front of an S-chassis, 350/370Z, or G35/G37. They were designed by me, manufactured in the United States by a small business, and the little profit I make goes right back into my car. The finish is a Type III Class 2 hard anodize finish that increases both scratch and chemical resistance over a "normal" Type II anodize and meets military spec MIL-A-8625 (for the aviation / racing parts guys).
Pricing
9/2 UPDATE: We have surpassed the 10 pair mark. Price will be $140 shipped in the continental U.S.
Unfortunately, this has increased somewhat since the last run. The cost also depends on how many I order:
1-9 pairs will be $155 shipped each
10-24 pairs will be $140 shipped each
25-49 pairs will be $130 shipped each
Background
I ran Wilwood 11.75" diameter (298mm), 1.25" thick (32mm) rotors in a 2-piece hat design on my S13 "racecar." After about a year of not driving the car and thinking about my goals for it, I decided I wanted to get away from 2-piece rotors. While they are baller and save a bunch of weight, the safety-wire aspect makes them unattractive for me. The other primary motivator was that I wanted to use a larger diameter rotor with more mass, which gets VERY expensive with 2-piece designs. As an example: 12.9", 1.1" thick Wilwood 2-piece rotors that come in the S14 kit are $180 EACH to replace. At a minimum, and not including shipping. To compare, I can get a pair of 350Z Track rotors to my door for around $170.
Advantages
Ability to run Off-The-Shelf (OTS), readily available rotors.
Wilwood Superlite calipers are affordable, easy to find used, and super easy to rebuild compared to Z32 calipers.
Superlite caliper pad cost is usually lower than Z32 pad costs, due to manufacturing volumes. When I looked a year ago, I found the following:
_____________Z32_________Superlite_________Savings
Blues________$188__________$128_____________$60
HT-10________$195__________$128_____________$67
DTC-60_______$203__________$160_____________$43
HP+_________$117___________$88_____________$29
HPS__________$88___________$84______________$4
Superlites are available in multiple piston numbers and sizes, allowing you to easily tweak your braking system if you add more power or change the rear brakes. It also means you can run the 6-piston Superlites if you want to ball outta control.
The BBK can easily be transferred to a 350/370Z or G35/37 if you sell your S-chassis and want to keep your brakes. All you have to do is drill out the spindle mounting holes in the bracket. I'm not sure if the lines are reusable across chassis.
You can actually get coefficient of friction information on Wilwood pads. They are the only pad manufacturer that provides this information, and it is critical to correctly balancing a brake system.
If you decide you want 2-piece rotors down the road, they are available through RacingBrake. This will save you ~6lbs. per rotor
.
Disclaimers
The Superlite caliper P/N below is for a 1.38" piston. Your piston size may vary based on the rear brake setup and how you use the car.
You will need to run 17" wheels with this caliper/rotor setup. It's possible a 16" wheel would work based on my test-fit using a 17" Cobra R wheel, but I wouldn't count on it.
Caliper to spoke clearance should be similar to Z32 calipers, but I have not compared them back-to-back.
The Superlite caliper P/N below is for a 1.25" rotor, whereas the 350Z track rotor is 1.18" thick. Please be aware that if you run the pads down to the backing plates, you may overextend your pistons and lose brake pressure and/or leak fluid. If you are concerned about doing this, you can run spacers after you've worn your pads down. I just eyeball my pads on some frequency to make sure they aren't getting too thin.
Additional Parts Needed
2x 980250 Raybestos 350Z Track rotors...................$138 (RockAuto considers these "High Performance" rotors, and you can find cheaper ones)
2x 120-11130 FSI Caliper, 1.38" pistons, for 1.25" rotor.....$300
1x 150-8855K BP-10 pads, set of 4...............$66
1x 220-9199 Wilwood SS brake line kit w/adapters......$60
*All Wilwood component pricing is from the Summit site. Raybestos rotors from RockAuto.
The additional parts total is $564 not including shipping/handling.
Pictures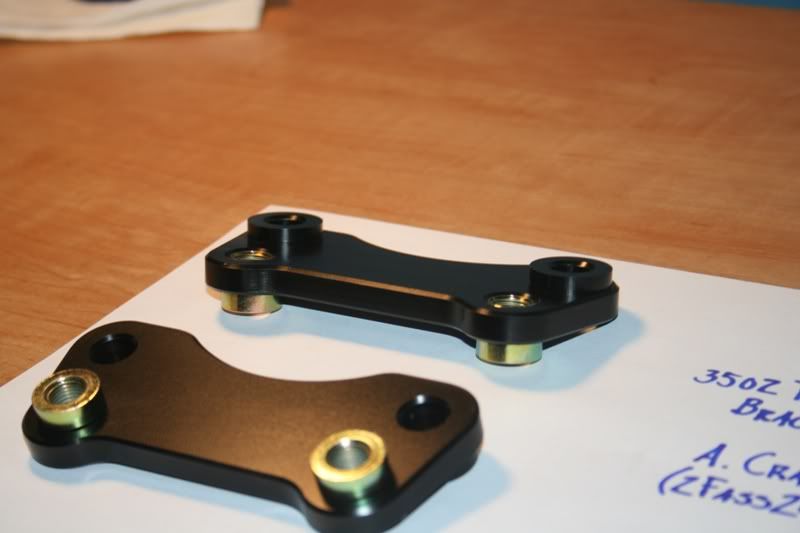 v1 mounted with a 17x9 Cobra R replica: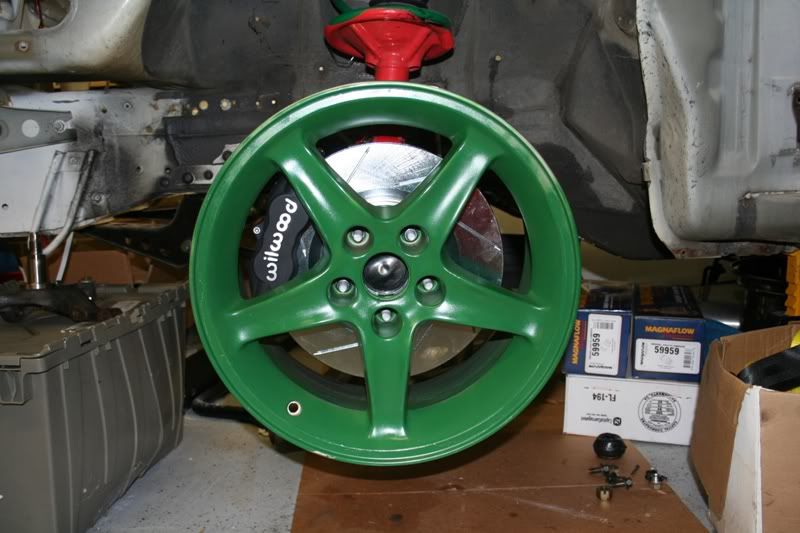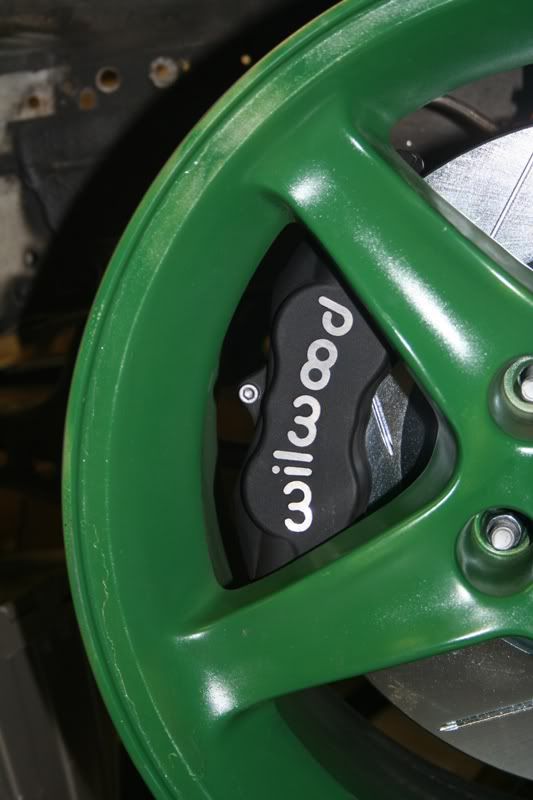 v2 mounted on my friend's G35: