So I decided to resurface my unknown brand chromoly flywheel myself that came as a package with a KA when I first got my car. Pulled out the clutch assembly after last race to troubleshoot terrible clutch slippage toward the end. FW runout measured at 0.008" and the friction surface itself was concave 0.002"-0.004". Needed a clean up...
Put it on the lathe at my work using a mandrel with a large shoulder to pick up the bore and surface where it pilots onto the crank. Used a ceramic cutting tool and took very little off at a time. Ended up taking about 0.010" total off to get everywhere true. The ceramic bit did a fantastic job getting through the hotspots, BTW, with only a 0.001" difference between the worst hot spots and normal material. I then used an "Arkansas stone" by hand to bring down those "high" spots. After that, I chucked it in the lathe again and used
this awesome little Brush Research Fly-Hone for rotors and flywheels
in a cordless drill to get the ideal non-directional finish. Going to try it on smeared/pad deposited rotors next. You can get them at Summit or Amazon.
Before:
After: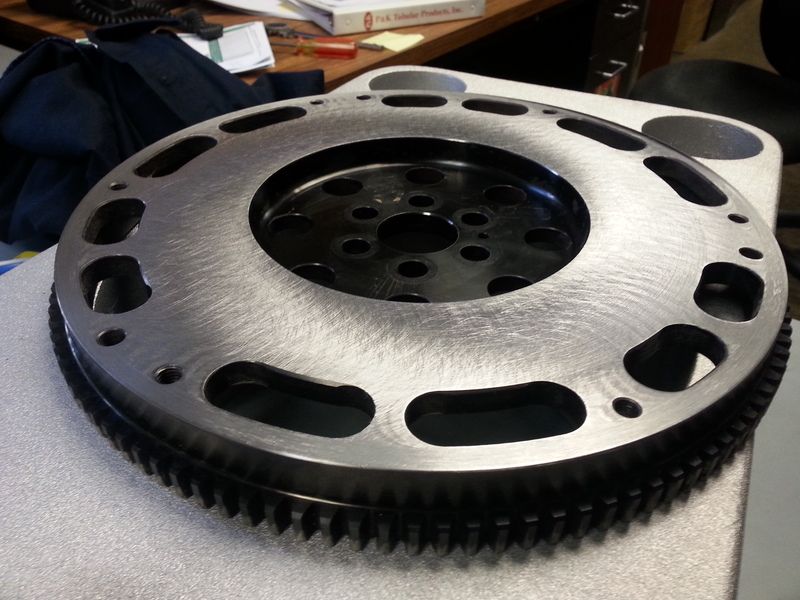 So with the amount of material I had to remove, I obviously had to machine into the outer surface of the flywheel and hence removed the step in the transition from the outer surface to the friction surface (this was practically already flush in the lowest spot prior to machining). I ended up not putting this step back in because I figured it probably isn't necessary.
Did more thinking afterwards and am trying to find a nominal dimension for this step and can't seem to find anything. Nothing in the FSM mentions it and obviously found garbage forum threads through google with one guy claiming "they say" that the step is 0.006".....who the hell is they...
So does anyone have any experience with this and whether it is actually necessary or not on the KA or in general? I'm thinking it probably isn't, but perhaps not having a step may affect the clamping force of the clutch due to increased spacing from the clutch disc or some other phenomena my fried brain isn't thinking of. Any and all input would be appreciated.