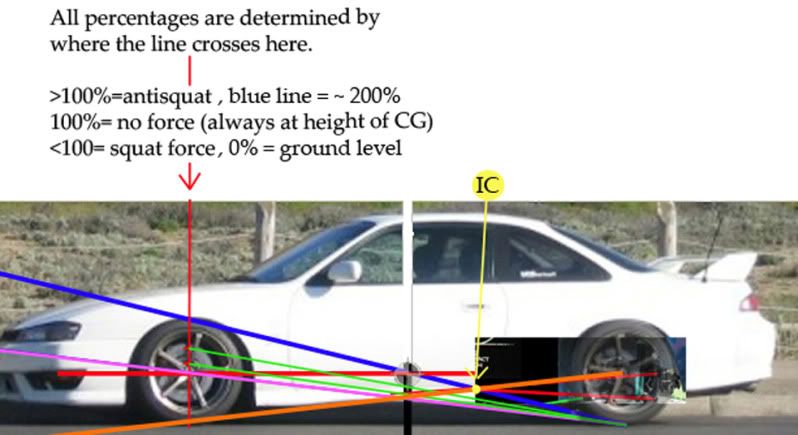 Before we talk about the consequences of antisquat tuning I want to figure out where the 100% antisquat (aka no force) line and instant center (IC) exist on the S14. I tried to get some discussion going on zilvia, but I don't think there are enough engineer minded folk finding the thread.
It's well accepted that the antisquat line always go through the IC. But there seems to be some disagreement as to where that line should start? Can anybody confirm that a car with a independent rear suspension calculates anti squat with a line through the instant center and the center of the wheel, rather than through the rear tires contact patch? And if so why? I found this textbook page, but I've seen a lot of contradicting information stating that IRS cars' anti squat is calculated the same as a sprung 4-link.
The difference is dramatic. Using the contact patch, as is standard when calculating antisquat in sprung 4 link drag cars you get about 200% [BLUE LINE] antisquat for an s14 and a completely rediculous >300% in an s13. But Using the textbooks wheel center method for an s14 gives a makes-no-sense 0% antisquat [ORANGE LINE]. 120-150% [GREEN LINES] is standard for a road race car, and of course it's possible that my pic is a bit off, but this isn't making a lot of sense for a performance car.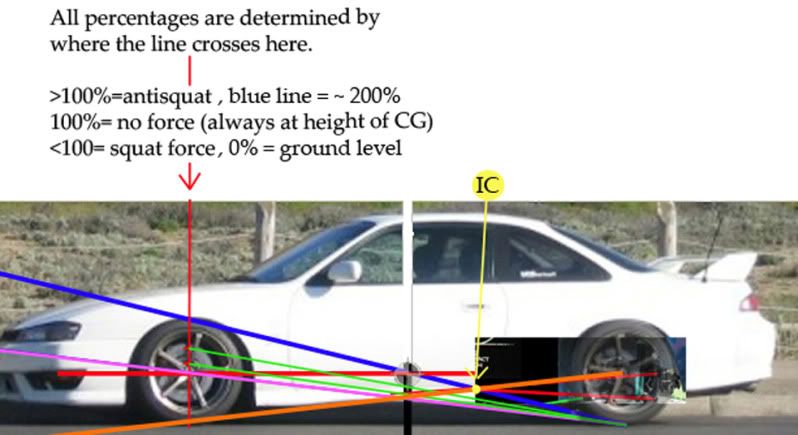 Originally I stated that I've been getting conflicting reports as to whether the anti-squat line should originate at the contact patch or the center of the rear wheel. The more I read, the more certain I am that the contact patch is only used to create the antisquat line in solid axle designs, and that the orange line is indeed the correct line to use (rear wheel CENTER to IC) to calculate the antisquat line in IRS designs.
Here's a link to Bill Shope's web page. He is a retired Chrysler Engineer (one of the original ram chargers) and Professor of race car dynamics at Florida State agreeing
http://www.racetec.cc/shope/
and a quote from that site:
"It is apparent, then, that...with an IRS or DeDion...the IC will be much higher for a given percent anti-squat [compared to a solid beam axle]. This can create excessive roll oversteer. The launch squat common with production IRS cars indicates that the designers have chosen to sacrifice some anti-squat to avoid the roll oversteer"
Clarification: I refer to 100% antisquat line (no induced force) as the pink line (a lot of discussions will refer to the blue line as 100%. I call the blue line 200% antisquat.
Further evidence that the s14 has ~0% anitsquat: I remember the one time I drag raced my s14 at the track and at launch the rear would squat so much that I was a fraction of an inch from draging my stock tow hook! Any car with 200% anti-squat (as the blue line starting at the contact patch would indicate) will actually lift the rear end of the car on launch like a properly set up drag car. It's obvious that the 240 doesn't lift the rear on launch.
Here's a s14 running real QA1 drag shocks, with noticeable squat
http://www.youtube.com/watch?v=wMgVy3yxi8c
Here's a mustang. While the guy struggles to stage you can see how softly sprung the car is, it wobbles all over the place. But whatch his launch around 1:12, a couple times. Even though he has enough power and traction to lift the front wheels completely off the ground THE GAP AT HIS REAR TIRE NEVER SHRINKS... no squat... That's how a car with 200% antisquat should behave on acceleration.
http://www.youtube.com/watch?v=Lq4FzEWdDNM
Finally here's a paraphrase from Herb Adams book "Chassis Engineering"
http://books.google.com/books?id=rY2...ing%22&f=false
"Only real downfall of a IRS is the anti-squat, practical limit is about 25%. While a drag/live axle car can get 100% or more"