Hey everyone. Yesterday I did my first track day at New Hampshire Motor Speedway with the North Atlantic Audi Club. It was a two day driving school with a mix of time on the track with an instructor and in the classroom. I was obviously in the beginner class as it was my first event.
Here's the car:
Mostly stock except for 8610s in Richard's housings in front, yellows in back, Ground Controls all around and a Whiteline front swaybar. Wheels/tires are 225/45 all seasons on 17x9 fn01s. I've been in a huge rush over the past week or two to get the car together and aligned for the event, then finally got the fenders rolled the day before after realizing I had a ton of rubbing issues. On the drive up to New Hampshire it seemed the roll solved most of those issues so I was pretty satisfied.
We had some classroom time talking about some really basic stuff. I've been autocrossing for a few years so most of the general stuff was review for me. Finally we got to go out for our first session on the track. I met my instructor who was also a former S13 driver and we bonded over the car immediately.
They had the yellow flag out the entire session and limited us to 50 mph so we could use the time to just focus on the basics and hitting the proper line without adding too much to the mix. It was nice and relaxing and after the 30 minutes I felt pretty comfortable with the track layout despite the Mini behind me that refused to obey the speed limit and accelerated right up to my rear bumper on every straight. My instructor also said he could see the autocross experience in my driving and was looking forward to see what I could do which was a nice boost to my self esteem.
Spent some more time in the class then they let us loose again, this time with the green to pass and no speed limit. I started right behind the Mini from the first session who seemed to completely forget the concept of the line during the downtime and was driving all over the place. My instructor and I lamented that I was stuck going even slower than before but he said it was good practice for learning to ignore other drivers and concentrate on my own line. After 2 or 3 frustrating laps of the Mini refusing to point me by she finally pitted in and I got to get into the gas. I took it pretty easy to get a feel for the braking points, turn ins, etc. at speed but ended up catching a few more people and started having some real fun. My instructor gave me some really helpful tips about driving an underpowered car, how to adjust my line, etc. and it seemed like he was having a great time too. His enthusiasm really helped my confidence on the track.
Some more class time then for the third run I was feeling great so I start pushing it a bit more. My instructor was pretty confident with me so he pointed out a few areas where I could gain some more speed and I worked on picking up the pace. Around this time I noticed I was getting some serious rubbing on a few corners as I started pushing it but all I saw was some rubber buildup on the fender lip so I didn't think much of it. I worked my way through a decent amount of traffic and encountered a few people who wouldn't let me pass them despite sitting on their bumper for 2+ laps because everytime they hit a straight they could just step on the gas and leave me behind until the next turn. I told my instructor it was annoying they could just deny me from passing by burning me on the straights and he said that's the difference between a slow driver in a fast car and a fast driver in a slow car. I'm definitely not a fast driver (yet!) but I got the gist of what he was trying to say.
As I pulled off the track I noticed the e-brake light on my dash was on so I checked my brake fluid and the other basics but everything seemed fine so I didn't think too much of it.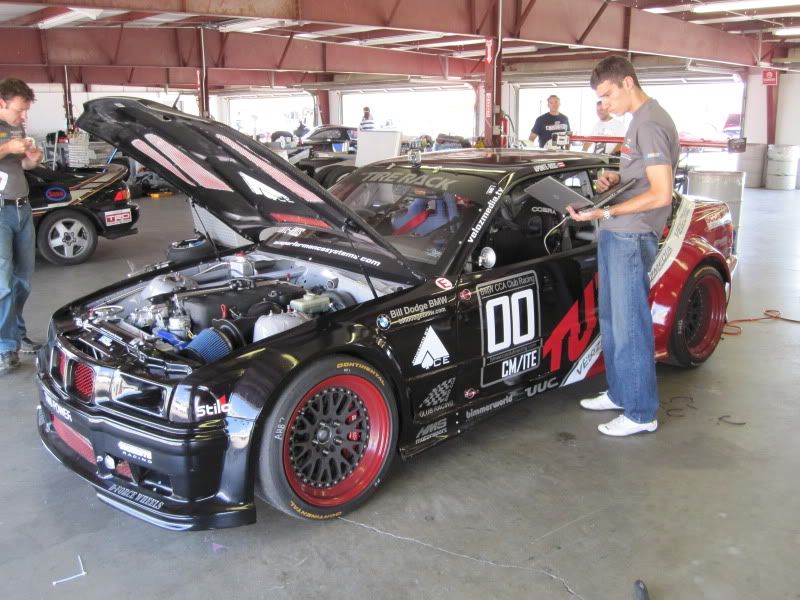 More basic stuff in class and finally our last run of the day. At this point I was pretty comfortable with my lines and realizing I could get on the gas earlier and earlier which of course meant my rubbing was getting worse and worse. I was having way too much fun to think much of it though and my instructor was laughing all the way through turn 3 when I got a little overconfident and the rear end started coming out. I'm really glad he was confident enough in my ability that he could laugh instead of chew me out.
With about 5 minutes left in the session I saw something fly off the car in the driver's side mirror though and was immediately black flagged.
I pulled into the pits and overheard something about a lost belt on the radio. I freaked for about 2 seconds until they corrected themselves and said it was just a piece of bodywork. Turns out this thing flew off at about 70 mph which was apparently cause for concern.
I pulled back into the lot to check out the rubbing and noticed this:
Well there's the reason for my electrical issues. At this point they weren't too bad: wipers wouldn't turn off unless I turned the car off but it wasn't raining so no big deal, e-brake light was on, and as I realized on the drive back to the hotel my turn signals didn't work at all. I figured I'd tape it up the exposed wires the next morning and zip tie it back up to the top of the wheel well to get by for day 2. Well, I pulled off the wheel the next morning to find this: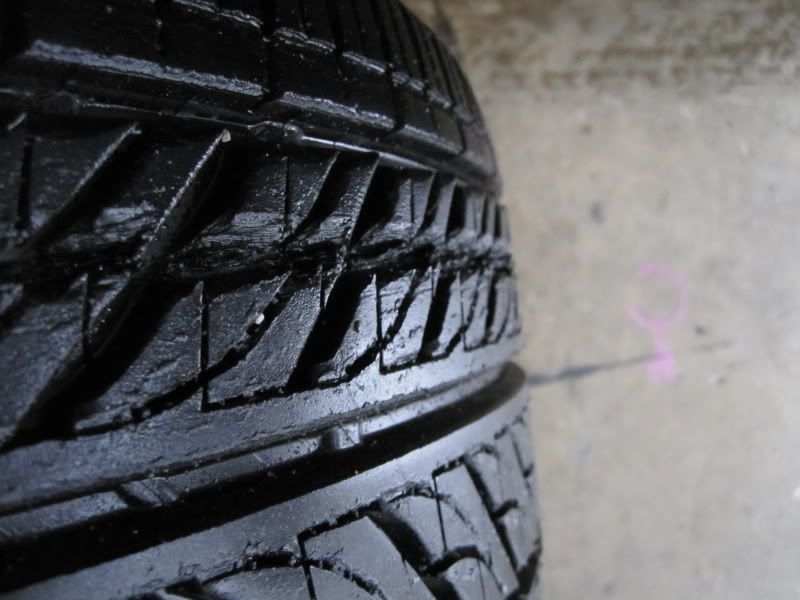 The other front tire looked identical so between that, the fact that the wire harness was pretty destroyed in two seperate places, and my ever worsening electrical issues thanks to that, I decided it might not be a good idea to bring it back on the track. So unfortunately I missed day two but thankfully the car made the three hour drive back home without too much trouble aside from the wipers going on when I hit a bump and then refusing to turn off again for the remaining 2.5 hours. Nothing like listening to them screeching over my perfectly dry windshield in the bright sun for a few hours. All in all though I had an absolutely great time and can't wait to fix the car and get it back on the track. My only complaint is the classes were a little basic for me but my instructor said I could move up a group for the next event so they should be more helpful for me next time. I think the next event will be Watkins Glen in July. In the meantime it looks like I need to take a hammer to the inside of my fenders and do something about this wiring harness. Any suggestions?