I have a 91 240sx with 130K miles on it and the chain/guides started rattling a few weeks ago so i removed both the upper guides. This took care of the noise but should I replace my timing chain as well? A few people on a local forum told me that my chain has probably stretched...
Thanks in advance for the help!
Here are some pictures I took when I was removing the upper and side guide.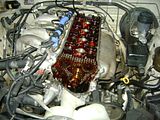 Upper Side chain guide